Certified Nursing Assistants (CNAs) play an important role in helping many people with their daily living needs and are an integral part of the medical field. Typically there are two groups of people who tend to become CNAs. The first group of people are students that are on track to become a nurse or a doctor and want to get some experience in the medical field before they graduate. The second group are people wanting to change their career path, help people, and make a higher hourly wage. 
If you're thinking about becoming a nurse or plan on attending medical school, becoming a CNA is the first step towards this path. This is a great opportunity to get a hands-on experience in the medical field. CNAs help patients with activities of daily living and other healthcare needs under the direct supervision of a Registered Nurse (RN) or Licensed Practical Nurse (LPN). For example, bathing, eating, changing, brushing teeth, going to the bathroom, and more.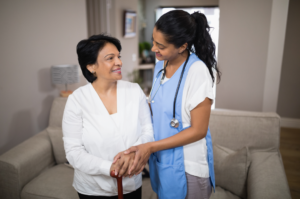 Becoming a CNA is a great way to pursue a career change. One key benefit of choosing this profession is that it has a higher hourly wage than traditional hourly jobs and is in a respected, specialized field. There will always be a need for CNAs so job security is considered high. Due to the fact that there is currently a shortage of CNAs, particularly in Madison, there will be job opportunities waiting for you. 
Many hospitals and assisted living facilities are offering to pay for people to get CNA certified. For example, some facilities will pay you back for 50% of the class after you become certified. Then, they give you the other 50% of the cost of the class after 6 months. 
All in all, becoming a Certified Nursing Assistant offers plenty of benefits and an opportunity to grow within the medical field. Let Neway Directions help you on your path to becoming a CNA. We offer courses every month and have several resources to help with your success. Feel free to call us with any questions, we would be happy to help you. 
Jenna Ruehlow-Haney
President of Neway Directions
Phone: (608) 221-1920
Email: jenna@newaydirections.com