Becoming a Certified Nursing Assistant can be intimidating and comes with its challenges just like any new career. It's also a highly rewarding career helping others with their daily living needs and general health and recovery. To help you navigate this new journey, here are four helpful tips.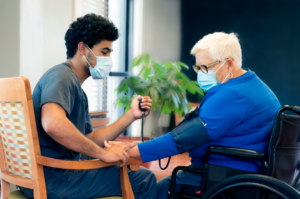 During your check in's with patients, be sure to interact with them and ask them how they're doing. This will help you build rapport with them and allows efficient and easy communication with them. It will also help to get them to work with you when they know you care. 

Ask an experienced CNA, nurse, or doctor to be your mentor. This way, you have someone else to talk to when a question arises, besides your supervisor of course. Never hesitate to ask questions, especially if it is patient care related. Having a mentor will help you learn a few techniques and they can offer you helpful advice as well. 

Always keep a kit with essential medical tools such as gloves and medical scissors and supplies such as pens, medical tape, or a small notebook. Definitely keep the notebook handy so you can take notes and write down timely tasks and reminders. Having these supplies readily available will help you keep organized throughout the day. Keep in mind that the medical facility you are working for may provide you with these items as well as other tools to keep you organized and provide superior patient care.  

Allow your patients the option of doing what makes them happy. For example, if they don't wish to go for a walk, eat, bathe or sit up, ask them what they would like to do instead. Work with them. The one caveat to this suggestion is that if it is crucial for the patient's health to complete one of these tasks even if they are not especially keen on the idea, you will need to persuade them to do the activity that is necessary. 
This should help you get a sneak peek into what working as a CNA will look like. These easy to remember tips should help you feel more comfortable in your first few interactions as a CNA and you can take them with you for the duration of your career. Diving into a new career is nerve-wrecking for everybody so don't pressure yourself too much. Remember to breathe, jot down helpful reminders, notes to refer to, and just be yourself. You'll be a great CNA!