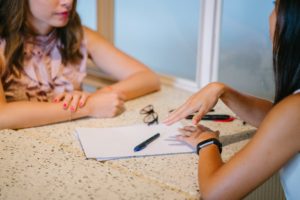 In interviews, it is important to ask your possible employer questions regarding the position and/or the company itself. Even if you don't have a specific question in mind, be sure to ask one in order to stimulate conversation and show interest in the job. Conversation builds a relationship with the person interviewing you. This relationship will increase your chances of getting the job! 
What is the workplace culture like?

What does a typical day look like?

Describe to me what the work environment is like.

What is the management style within the organization?

Why do you enjoy working for the firm?

Are there opportunities for growth?

How are employees evaluated and promoted?

What qualities are you looking for in a new hire?

What are your expectations for a new hire?

What makes your firm different from your competitors?
Doing research about the company before going to your interview can help you get a better understanding of the organization and might even answer some of these questions for you.
It is important to ask questions in order to see if you are a good fit for the company, but it also helps you know if the company is a good fit for you too!